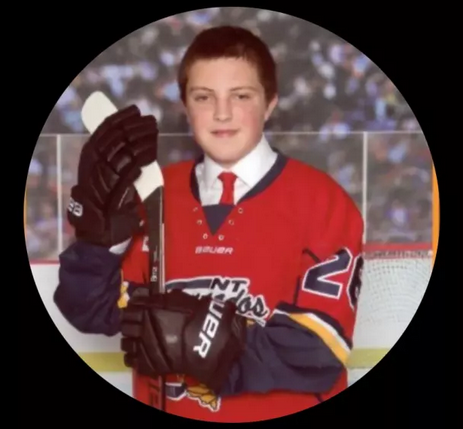 BREAKING : WORLDWIDE LANDMARK HUMANITARIAN TRIAL SET - SEPTEMBER 2023 SEAN HARTMAN/DAN HARTMAN (DAVID) VS. (Goliath)/PFIZER/NIH
We invite everyone that visits our website to find it in their hearts and support the Answers for Sean Fundraiser, which is dedicated to revealing the truth about the tragic death of 17-year-old Ontario resident, Sean Hartman, who lost his life in September 2021 after being required to take a Health Canada-approved COVID 19 vaccine to play hockey. Together, we can stand as a united community to challenge the federal government and demand accountability for vaccine related deaths. We ask now you donate today as this will help all costs in this monumental trial that must be won click here now to donate to Dan & His Son's Trial. One things for sure this will be a trial that will go down in the history books that the world has ever seen Answers for Sean
Answers for Sean
About Us: The Team - "Keep Believing Everyone"
The Reason I Picked This Video Is This Is How I Have Felt & I'm Sure All US Vax Injured Have Felt "Every Second Of Everyday" For the Last 2 Year and 1 Month. It's Been A Daily Second By Second Struggle With No Help From Anyone But The Real "Hero" Doctors...
Wouldn't You Like To Know - For The Purpose of Anonymity I/Team Will Be Known As Mr. "X"
Our website will be helping as many people as we can and feel for every one of you that has been
injured
and made out to be "
crazy
" or '
anxiety driven
" or a
"hypochondriac"
all of a sudden by the people you have looked to help restore your body to a healthy state, "yeah Im talking about all you, "you know who your are all you
hospital & hospital Docs
out there spewing the BIG PHARMAS agenda"  It's wrong and believe me you know who you are if you have faced this scrutiny and just know we feel for you which is why we have decided to launch our website.
PLEASE IF YOU THINK YOU CAN STOP ME/US
from getting the word out, We warn you we know what we are doing, we are a highly educated team, been working in the Finance industry and most recently the largest tech sector you could imagine. OH AND IF YOU THINK THAT WE ARE SOME REGULAR TEAM THINK AGAIN, SINCE OUR FOUNDER HAS LOST HIS JOB BACK IN AUGUST 2022 HE HAS SOUGHT OUT ON A MISSION TO EMPOWER ALL PEOPLE WHETHER YOU BELIEVE IN THE VACCINE, WHETER YOU DON'T IT DOESN'T MATTER. WHAT MATTERS AT THE END OF THE DAY IS HOW MANY PEOPLE ARE NOW SUFFERRING. ITS NOT RIGHT AND THE WORLD NEEDS TO WAKE UP, WE NEED NEW LEADERSHIP!!! 
Since the shots, I the founder now feel my cognitive brain function has been deteriorating since getting the Pfizer COVID-19 shot. I definitely know this caused me to have neurological issues and other major issues to date. We will be relentless in our mission and we can assure every vax injured, we are with you and look forward to going after BIG Pharma. Thus restoring trust in our justice system and going after pain and suffering costs against the very institutions that said that all of these COVID shots were "safe and effective".
FINALLY, I WILL LEAVE ALL OF YOU WITH THIS...WHEN YOU ARE GOING UP AGAINST EVIL, YOU MUST FACE IT HEAD ON. THAT IS WHAT I HAVE HAD TO FACE (Along with all my other vax injured friends around the world) SINCE THE BEGINING OF THIS MADNESS. SO THE MESSAGE WE HAVE FOR ALL OF 
of you who have the
utmost evil intentions,
 your going down. Get ready for the massive red sunami wave of lawsuits and look forward to meeting all of you that have been injured and are still fighting the fight...
We want to thank all who care about the work we do, for a better world.
When we first started deathfromvaccines.org we had no idea that we would be having such an impact.
Thousands have flooded to deathfromvaccines.org to see the truth. At some days thousands at a time signed up for the emails. Again, this is not our first rodeo with being an effective website designer and marketer so this is the reason for such quick success at getting our vaccine injury out to the world.
It showed us that the world is ready for a new vaccine era message, a time of truth.
We are am a team that consists of very cunning businessman who know how to get the message out to the masses.
Our passion to see evil taken down, and the world be delivered from the torture and oppression, drives us to give all our time, energy, and resources to push out truth, truth, and more truth.
Even when people hate us for it. Like now, how we are exposing the vax injuries that not only myself have had to endure but hundreds of thousands of people around the world who live in pain second by second of every day.
This is the fire inside our heart: We want to see darkness taken down, so the incredibly beautiful people of this magnificent world can be released into dimensions of goodness, that we don't even know are possible.
Our weakness is that I am focused on helping the world, and I am not a financial trick man. Many tell me: "You should put up a paywall, to force people to pay for your content." Or: "You should put distracting ads all over your emails and website." Memberships, substacks, subscriptions, commercial ads all over the place,… all that kind of stuff.
HIDE THE TRUTH BEHIND A PAY WALL, so only people who can afford to pay for it, can see it.
I am sorry. We can't, and we just won't do that.
We don't want to distract the thousands of visitors with horrible ads all over our website, that lead them away from the critical truth, that we all need so badly. Neither will we manipulate you into paying memberships, while many in these times can't even put bread on their table, or gas in their car. Just can't do it.
We and the founder want the truth to explode worldwide, for everyone, rich and poor, even homeless people who happen to see it on a smartphone somewhere.
That's why we have chosen to walk a path that few choose: where people will accuse, and misunderstand, because I simply offer everything freely to the whole world, and everything relies on voluntary donations. Not gimmicks, trickery, and sneaky sales techniques.
Since having he Vaccine Injury our mission is simple, because we saw what has happened from the vaccine role out that has crippled the world that has been delivered from evil. We know what will continue to happen if we don't get them to stop this madness. The future has been shown to us, and we know what will happen once the billions of Christians no longer wait for a rapture, but finally take up their divine mandate to be heroes who save the children from this enslaved direction or world is headed in, and put an end to the extreme corruption in our nations.
What kind of a person attempts to get shot up by these shots with no needle making look like they did, knowing that others will get that needle at the end of their syringe and be shot up with deadly compounds. What kind of theology is this, that we defend like devils, because it gives us an easy way out, while the world/people are injured, maimed or even be put to death from a shot? Just sad to think that this is where are world is at today... 
Is this what Christ would want from us? Or do we have the guts to look at THIS MOUNTAIN OF EVIDENCE that shows how the entire Church is hijacked by the elites, to turn God's mighty warriors into a bunch of selfish cowards, who want to go to heaven, and leave humanity into the claws of hell? This is where we are at today, something needs to change and change quickly.
My entire being burns with fire, to taken down strongholds that cripple the good people on earth, and help them see that we are not here to hide, or run, but to rise, and heal this beautiful world. Christ died to restore humanity, not to destroy it.
Slamming head on into the diabolical strongholds that blind and bind the people, is intense. Because of this vaccine injury battle, I am tired, and depleted to set up all kinds of gimmicks to get money from our readers.
That is why we have taken a moment today to express our real intentions, why we are doing this and were we see this going. 
So we ask that if you do anything, please help support the Vaccine Injured whether it is us, or someone else just showing that you care makes all the difference. All we can do, is be transparent, vulnerable, and share the need. This is all based on love for this world, and its incredibly precious people. What we do ask is to note judge, hate and criticize, because that is part of the pain of what we do: you give all you have to help people, and in return many spit in your face. That's just not easy. Please learn to think a little deeper, and have some understanding.
May we all vax injured become warriors who make sacrifices, instead of
 

STAYNG SILENT

.

For a better world,

deathfromvaccines.org
.
INJURED? SHARE YOUR STORY