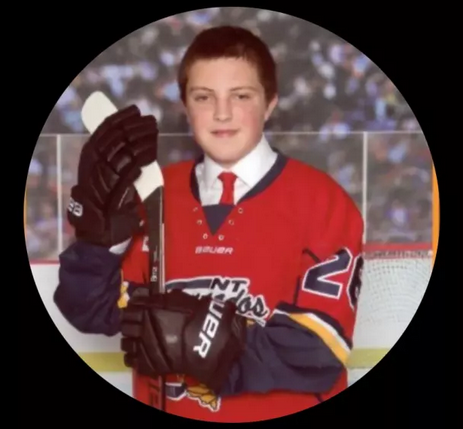 BREAKING : WORLDWIDE LANDMARK HUMANITARIAN TRIAL SET - SEPTEMBER 2023 SEAN HARTMAN/DAN HARTMAN (DAVID) VS. (Goliath)/PFIZER/NIH
We invite everyone that visits our website to find it in their hearts and support the Answers for Sean Fundraiser, which is dedicated to revealing
the truth about the tragic death of 17-year-old Ontario resident, Sean Hartman, who lost his life in September 2021 after being required to take a Health Canada-approved COVID 19 vaccine to play hockey. Together, we can stand as a united community to challenge the federal government and demand accountability for vaccine related deaths. We ask now you donate today as this will help all costs in this monumental trial that must be won click here now to donate to Dan & His Son's Trial. One things for sure this will be a trial that will go down in the history books that the world has ever seen Answers for Sean
Answers For Sean
MAKE SOME NOISE EVERYONE!!!
WE WILL NEVER FORGET: CLICK PLAY BELOW
"SAFE & EFFECTIVE?"
BEFORE YOU EVEN THINK ABOUT CRITICIZING US OR GO OFF ON WHY YOU FEEL VACCINES ARE THE ANSWER READ ABOVE AS THIS IS WHAT I AM NOW FACING IN MY LIFE AS WELL AS HUNDREDS OF THOUSAND OTHERS THAT HAVE BEEN VAX INJURED, AND OUR GOV'T/MEDIA IS NOT HELPING US, OR EVEN GIVES TWO SHITS ABOUT US!!!
THE PLAN - TELL MY VAX INJURY STORY & SUPPORT ALL VACCINATED, ANTI-VAXERS & VACCINE INJURED SEEKING THE TRUTH TO HEAL...
Our Health Mission:
The specific purpose of our website is to provide a service to anyone and everyone in this world and enlighten them to the re-awakening of their god given bodies to heal and repair itself once it has been attacked by an injected vaccine.

We will be spreading the word through only credible factual literature and helping as many people as possible heal from the toxic vaccine injections that have been shot into millions around the world. And if there is a countdown timer to when my life ends because of the toxic vaccine injections that I had then everyone will know why it happened, how it happened and who it was that ended my life so early. In addition, this website was created for the sole purpose that this would become my online obituary, I never thought that at least for another 30 years that I would ever have to create this. Sadly I did and I have already made my family aware that we demand a full autopsy report be done, MY BLOOD IS TO BE EXAMINED BY PATHOLOGIST DR. RYAN COLE AT COLE DIAGNOSTICS AND THEN THE RESULTS/FINDINGS ARE TO BE SENT TO SIRI & GLIMSTAD LLP AND BE USED TO SHARE WITH THE WORLD THAT THE VACCINE IS WHAT KILLED ME. It will then be presented to SENATOR RON JOHNSON, including a complete blood analysis ensuring that I did not pass from unknown heart attack in my sleep or there whats know known as clotshot. Know one believed us vax injured so now I will enlighten the world...Being that I was poisoned by Pfizers toxic vaccine shots that are now known to cause unordinary blood clots AKA "clotshot" #clotshot which I have never had in my life, thrombosis, pericarditis, myocsarditis and did I forget to mention Atrial Fibrillation of YOUR HEART and a whole slew of other dibilitating syptoms and disease.

By the way I made it a PRIORITY to never have COVID-19 as I have always been very healthy. Wake up America when have you known perfectly healthy people to just all of a sudden collapse and die out of know where. Us VAX injured are suffering and if your like me disgusted by the people that were behind this sick plot, you have an oath to provide "safe and effective" vaccine shots, not kill shots to the heart. It's not our fault, we don't have the deep pockets like the powers that be to fix the climate, you do and you have not done anything since you have devised this plan back in 1975, your what's now known as "kill shot to the heart."
We will be exposing evil and root it out at all costs and will crusade on telling the stories of many and helping those that we can in hopes that they will be able to recover to the healthy state their body was once in prior to taking the toxic vaccine shots. You may be Goliath but just like David took down Goliath, we are going to do everything we can to expose this and who have the evil intentions, see you in court!
Finally, we are extremely proud to provide a high quality level of service, and commitment to health and wellness in hopes of recovering from the vax injury and helping millions get through there challenges after being vaccinated. Take care everyone and Godspeed!!!
THIS IS ME "MR X" IF I SHOULD DIE (WHICH IT WILL BE FROM THE BURINING IN THE LEFT FRONTAL SIDE OF MY BRAIN FROM A UNORDINARY CLOT, OR SPASM OR ANURISM, WHICH I NEVER HAD ANY ISSUES PRIOR TO TAKING PFIZERS 1ST AND 2ND SHOT) IT WILL BE REPLACED WITH MY REAL IDENTITY!
I Know That I Speak For Myself And Hopefully All Vax Injured That Our Brand Is A Reflection Of My Entire Year And 7 Months Of Pain. Pretty Sad When You Know That Something In Your Body Is Not Working Right, But There Is Nothing Your Can Do About It!!!
Pain And Suffering You Can Trust - My Personal 2 Year and 1 Month Later Experience

We understand the importance of educating you on the most effective ways to take care of your body and hoping that my experience and the protocols I have used can help you heal from your Vax injury. Of course nothing that I do or use may help you but at least we are sharing what has been helpng in my recovery.

We Care!

Not only will I share with you what has been working for me, but we will strive to help you improve your quality of life, and help support you so we can win this battle of good vs. evil.  
Vaccines Safe & Effective - No Way: Come On People Your Life May Be At Risk - Is It Worth It? THE MOST TALKED ABOUT VACCINE INJURY MOVIE ONLINE TODAY JUST KEEPS GOING UP WITH OVER 1,000,000 VIEWS NOW, HOWEVER WE WON'T BE SURPRISED IF THEY REMOVE IT. FIRST PREMIERED ON 9/28/2022 LET US REMEMBER THE VAX INJURED ON THIS DAY - Press Play Below!
ITS PRETTY SAD IF THE CREATORS OF THE VIDEO ABOVE HAVE TO LET PEOPLE KNOW THAT If this video goes down, continue watching on https://www.oraclefilms.com/safeandef...

If you'd like to see more independent projects like this happen in the future, or you feel inclined, you can donate to them here: https://www.buymeacoffee.com/oraclefilms
Safe and Effective: A Second Opinion shines a light on Covid-19 vaccine injuries and bereavements, but also takes an encompassing look at the systemic failings that appear to have enabled them. We look at leading analysis of pharmaceutical trials, the role of the MHRA in regulating these products, the role of the SAGE behavioural scientists in influencing policy and the role of the media and Big Tech companies in suppressing free and open debate on the subject.

Sub to their main channel: https://www.youtube.com/channel/UCiQ0...
Also, please Click On The Video Below Interesting...I AM NOT EVEN A DOCTOR AND I COULD HAVE TOLD YOU THIS MIGHT BE THE CAUSE!!!! What Happens When These Heat Up In Perfectly Healthy Athletes, Can The Protein Regulate It's Temperature In A Vaxed Individual, Like It Would In A Unvaxed Individual? Hmmmm....Did Big Pharma Evaluate People Like This In Their TRIAL PHASE - We would Venture To Say Probably Not...
Which leads me to our next question might there be a correlation with VACCINES and Sudden Adult Death Syndrome aka (SADS) as the people that are falling dead seem to be pretty healthy for the most part, young and were doing some type of exericse. Hmm again makes us wonder whats really going on...
Notice to Principals is Notice to Agents; Notice to Agents is Notice to Principals.